Frequently Asked Questions
Can I put a dog in a Buy-Kayaks?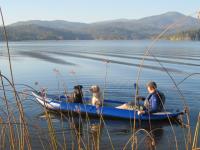 Yes, as long as your dog's nails are not sharp, bringing your dog with you in any of our inflatables is perfectly fine.


What kind of battery do I need for my electric motor?
Most traditional electric motors require a 12 volt, deep cycle marine battery. Buy-Kayaks does not carry or sell these batteries, however you can find them easily in most local marine or sporting good stores. Torqeedo electric motors require a Lithium-ion Manganese battery which is included with the motor.
Are the boats Coast Guard approved?
Although Buy-Kayaks Boats are durable enough to use for rescue applications, they are designed with leisure in mind. The United States Coast Guard only rates and approves inflatable boats designed specifically for life-saving applications. Our Buy-Kayaks models are NMMA and CE Certified.
Do I have to register my boat?
Regulations regarding registration vary from state to state, waterway to waterway, please check with your local Parks Department or Department of Motor Vehicles for local requirements. You will receive a Manufacturer's Statement of Origin and a Bill of Sale that is needed for registration.
Can I inflate my boat with an air compressor at the gas station or any type of air compressor?
NO. Air compressors deliver more pressure than necessary and can overinflate or permanently damage your Buy-Kayaks. We recommend using only pumps approved and offered by Buy-Kayaks.
Can I mail in a check or money order?
Yes. You can mail a check or money order payable to Buy-Kayaks 19 North Columbia St, Suite 1 Port Jefferson NY 11777 Checks and Money Orders must be in US dollars payable to Buy-Kayaks, drawn at a US bank and payable in US. Personal Checks and Money Orders will take 10 business days to clear once received and orders will not be shipped out until the check has cleared.
How can I tell if my boat is fully inflated?
Each Buy-Kayaks model has its own recommended pressure for full inflation. You should always refer to your instruction manual for the designated pressure. Buy-Kayaks models SE-8, SE-9, 124SMB and Sport Kayak SE-330 & SE-370 feature an inflation gauge to ensure proper inflation. We also offer two different types of electric pumps (for different types of Buy-Kayaks) which can be set to the recommended pressures and will shut off automatically once your Buy-Kayaks is fully inflated.
Where is my nearest dealer?
Not all dealers have all our boats on display, so be sure to call first.
Are inflatable boats serious craft or are they just for hobbyists?
Inflatables have been in common use by the US Navy, Coast Guard, and serious boaters for decades. Buy-Kayaks inflatable Sport Runabouts are the water-going equivalent of a sports car – a serious performance craft. Inflatables' special advantage is portability - they deflate quickly and fit in your car trunk. Further, inflatables cost less and are easier to maintain than any same-sized hardhulled craft. And since you don't need a boat trailer, you'll never wait in line to launch your Buy-Kayaks inflatable.
What kind of maintenance do Buy-Kayaks require?
There's virtually no maintenance. Just hose it down at season's end, dry it in the sun, and pack it away. If you live in the sunbelt, you may want to apply UV protection above what's already built into your Buy-Kayaks inflatable.
How about warranty protection?
Buy-Kayaks inflatables are NMMA-certified and automatically warrantied for 3 full years against manufacturing defects. You may also extend the coverage to 6 full years for a nominal fee.
Are inflatables permitted in my area?
Rules and regulations vary from state to state and from place to place so it is suggested that you contact your local DMV or water authorities on the subject.
How much water does an inflatable boat need?
The boat itself needs only inches of water. Outboard motors need a little more depth, depending on the tilt angle. Most motors can operate at a slow speed at an angle that doesn't need more than a foot of water. To operate at full speed, you need to be absolutely certain that there are no rocks around and that there is no chance of running the motor into the ground.
How much does the inflatable weigh when it's deflated compared to when it's inflated?
Your Buy-Kayaks will weigh the same whether it's filled with air or completely deflated and folded.
Can I use my Buy-Kayaks in salt water?
Yes. All our boats have salt water resistant hulls.
How do I clean my Buy-Kayaks?
It is important to always keep your Buy-Kayaks clean, especially if you go into different water ways. Rinsing your boat, board or kayak will help keep organisms from one body of water entering another. Invasive species can cause damage and ruin your favorite lake, pond, river, etc. 3M Marine Cleaner & Restorer is a great way to clean mud, oil, bird droppings and other debris from your boat. You can also use a mild detergent such as Simple Green on your Buy-Kayaks. Whether putting your Buy-Kayaks away for the night or the season, be sure it is completely dry to prevent mold from growing. Mold will not damage your boat, but it will leave a nasty stain that cannot be removed.
Why can't I use a larger or heavier motor than recommended for my boat?
The boats are rated accordingly by the NMMA, exceeding the maximum capacity in any fashion could result in a fine or summons. Using a bigger, heavier or stronger motor can also result in poor performance as well as damage your boat.
How long will a fully charged battery last with my electric motor?
If you are using your boat at top speed continuously you will have about 1 1/2 - 3 hours with your battery. If you use your battery sparingly and shut the motor off at your desired location you can get up to a week on a fully charged battery.
Can I test-drive a Buy-Kayaks myself, on the water?
Yes, you can. Our 180-Day On-Water Trial lets you try the boat, kayak or SUP on the water for a full 180 days. If you're anything less than completely satisfied, return it for a complete refund less shipping. Read our full return policy by following this link, www.buy-kayaks.com/pages/return-policy
Are Buy-Kayaks inflatable kayaks stable?
Yes. Buy-Kayaks Kayaks are very buoyant and are quite stable compared to aluminum or wooden canoes and kayaks because of their large tubes.
What happens if I bang into rocks on a whitewater river?
Buy-Kayaks Explorers are durable enough to use in Class IV whitewater where it can hit many rocks and branches.
When do I use the self bailing drain valves?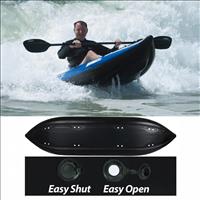 Some water will enter the kayak when the valves are open. On a lake or flat, calm water, they should be tightly closed to keep water out of the kayak. Typically in Class III & IV whitewater the drain valves should be opened and tucked under the floor to allow water to exit. In Class I & II, it is suggested to keep the drain valves tightly closed.
What's the difference between the Explorer and FastTrack kayaks?

Both models work great in calm waters, but the Explorer kayaks have larger tubes, flat bottoms and 16 drain valves so they are better suited for whitewater. The Fast-tracks have smaller tubes, a NeedleKnife Keel and only 2 drain valves so they are best for calm water use.
How do I store my Buy-Kayaks?
The best way to store your inflatable is folded, in it's bag, in a clean, dry space and out of reach of mice and other critters. If you must store your inflatable outdoors or in a shed, you can store it in a large plastic bin (or clean garbage can) with a tight lid to keep mice, squirrels and other rodents out. ALWAYS make sure your Buy-Kayaks is clean and completely dry to prevent mold from growing.
Can I use my Buy-Kayaks in the winter?
YES! If you're adventurous enough to brave the cold, our reinforced PVC kayaks, boats and SUPs can be used in frigid temps with no problem.
What happens if one of the separate air chambers loses pressure?
Most leaks are slow and can be noticed before much pressure has left the air chamber. Boats with multiple, separate air chambers will maintain buoyancy with one chamber down.
How do I fold my Buy-Kayaks?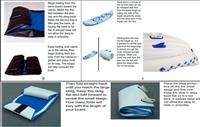 Although we provide both print and video instructions on how to fold your Buy-Kayaks please keep in mind that the instructions depict only one of many options for rolling/storing the kayak (most often the easiest). The characteristics of being an inflatable gives you the option to roll, fold or store it according to your specific needs. You'll want to pay close attention to how the valves, skegs and skeg base areas are folded as to prevent damage.
Where do I keep the battery for the trolling motor?
You can store the battery on the floor of the motormouth and transom boats. For the Paddle ski, Explorer and FastTrack, the side motormouth is used to place the battery on one side and the motor on the other side of the motormouth. And for the Fold Cat, the battery can be strapped to the aluminum cross slats.
You call the Fold Cat an 'inflatable pontoon fishing boat.' What is that?
The name Fold Cat originated from the words "fold" for "folding," and "Cat" for "catamaran." It simply unfolds to become a high performance catamaran-style fishing boat. Catamarans, or pontoon boats, are twin-hulled with usable space between the pontoons. Inflatables don't have hard hulls; air pressure inside makes them extremely rigid. And a fishing boat is one that's specifically set up for fishing.
Fish hooks and an inflatable boa. Am I asking for trouble?
Inflatable hull material is incredibly tough or the Navy and Coast Guard wouldn't depend on inflatables. When fully inflated to 3.2 psi, the hull is as smooth and tight as a drumhead. Fish hooks are sharp, of course, but are designed to engage a fish's mouth. They glance off the round, smooth, hard surface of the inflated hull.
Why does the Fold Cat have two hulls?
The Fold Cat is a twin-hull boat, or catamaran — the most stable boat design because two hulls support and distribute the weight over a wider area than a single-hull boat can.
How is the Fold Cat set up for fishing?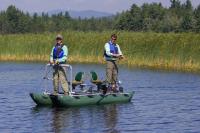 The twin hulls give it the stability you need to stand and cast. It sits relatively high above the water, giving you good visibility to spot prime fishing areas. It's nimble, with a shallow draft, so you can go where other boats can't. It has twin, 360° swivel seats and up to 4 rod holders. And you can row or power it easily with a gas or electric trolling motor.
If there's no bolt-together frame, how does the Fold Cat stay together?

Air pressure! As you're inflating the Fold Cat's hulls, simply slip the Underbars under the bench seats. As the hulls expand, they press the Underbars tightly between the hull and the underside of the benches. Upon full inflation, all the structural components — hulls, benches, and Underbars — lock together, creating incredible stability with NO nuts, bolts, or fasteners of any kind.
Does it really take just 5 minutes to get the Fold Cat ready to go?
Yes. Just roll it out on the ground, inflate it, and launch it. The entire process takes just 5 minutes. First-time setup takes a little longer because there's minor 1-time prep like clipping on the mounts for the swivel seats.
Can I leave the Fold Cat inflated instead of deflating and packing it each time I go fishing?
Absolutely. You can leave your UV-stabilized Fold Cat set up and ready at dockside all summer or carry it home inflated on a car rack, in the back of a pickup truck, or on a trailer.
What is the recommended shaft length to use on my Buy-Kayaks?
We recommend using a 30" to 42" shaft length for standard electric motors. The Torqeedo Electric Motor 1003s (23.2" shaft) is good for use on our 375FC Fold Cat, Paddle Ski, Sport Runabouts 10.6SR and 12.6SR. The Torqeedo Electric Motor 1003L (28" shaft) is recommended for use on our larger SE9 Motormouth Boat, STS10 and 285fpb Frameless Pontoon Boats, 375fc Fold Cat & 14SR Sport Runabout. For gas motors, we recommend a 15" short shaft for the Sport Runabout 10.6sr, 12.6sr and 14sr and 14sro. A 20" long shaft is recommended for the SE9, 285fpb, STS10, and 375fc Fold Cat.
Should I get the SE330 or SE370?

The SE330 makes a great solo or tandem kayak, but if you have longer legs or are planning some overnight trips, the SE370, with 1 1/2' of more leg/cargo space, is a better option for you.